Community and Connection
Christina Illarmo, LMSW | Program Coordinator
Growing up on Guahan (US Territory of Guam) in a family of strong women I learned that caring for others was our way of life. As I reflect on my 10 years as a social worker, I recall the waves of hopelessness that have hit me at different points of my career and I wonder how my mother and my godmothers were able to remain in the profession for multiple decades. When you are surrounded by suffering and hear firsthand accounts of people's worst traumas day in and day out, it can become difficult to maintain a balanced and healthy life. As far as I can tell my mother achieved this while raising 3 åguaguat (obstinate) children whereas I only have to look after one very bratty and energetic terrier. There are times when I lose motivation and question my or any programs' ability to positively impact the lives of those who struggle with substance use disorders when there are so many odds stacked against them and resources are so scarce. I have attempted to leave the field twice but each time I come back because though reluctant at times, I have a calling that I can trace back to my early years.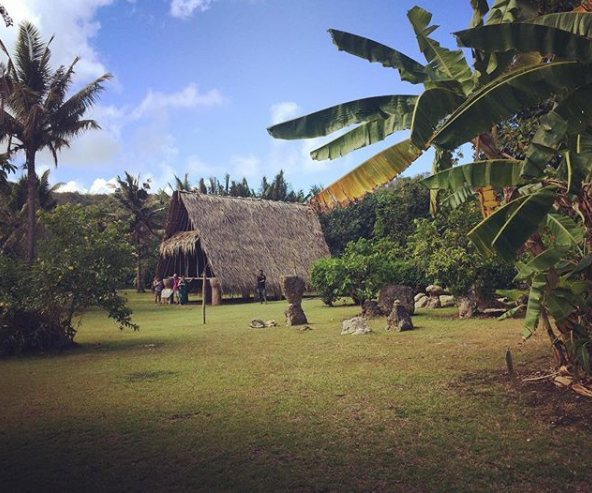 I was very young when I learned about the heroin epidemic that swept over Guahan after the Vietnam War. Before I had ever read a book on trauma or heard about PTSD I understood that our island's men, including my father, after years of fighting America's war came home hurting. When the draft forced them overseas they were introduced to a powder that could momentarily carry them away from the violence and suffering so they could dream about home, smell their mother's kådun månnok (chicken soup), and feel the as though they were floating in the safe waters of Tumon Bay (where many Chamoru children first learn to swim). At first they didn't think they would get hooked but the powder followed them home as military personnel smuggled kilo after kilo of heroin to the island in a time before strict customs airport systems were put into place. I remember the severity in my mother's voice when she told me it was a dark time in which every family was impacted. When I was a child, my community was healing from the dark hold that heroin had on the island in the 70s and 80s, however, as I entered my teens I witnessed a different epidemic as crystal methamphetamines crashed onto our shores and again every family was impacted.
When people find out what I do for a living they often ask me what I think the answer is to solving the "addiction problem." It's such a complicated issue that I often answer with a disheartened, "I don't know." There is no easy answer and the weight of it all can be very overwhelming. However, as bleak a picture as I can paint, there are success stories everywhere and everyday people dedicate themselves to exploring ways to support those with substance use disorders. More recently, I have been finding inspiration in the work of people who are dedicated to Harm Reduction. Traditional treatment of substance use disorders uses a rigid prohibitionist, abstinence-only stance whereas less mainstream Harm Reduction strategies meet individuals where they are in their recovery process. Harm Reduction strategies provide valuable support in reducing the negative consequences associated with drug use in a variety of ways. These include syringe service programs, distributing free fentanyl testing strips and naloxone, and opening safe injection sites. Some of the major principles of Harm Reduction that appeal to me are that treatment providers must be committed to providing services that are non-judgemental, non-coercive and that people who use drugs have agency in deciding what interventions meet their needs. We as treatment professionals must also be aware of how the realities of individual and community trauma, poverty, class, racism, cis- hetero- patriarchy and other social inequities impact a person's capacity to deal with drug-related harm.
After taking a much needed vacation home to the Pacific to see my family I've been able to recharge and return to New Orleans with a new sense of commitment to social work and engaging with people who struggle with substance use disorders. Since joining the IWES team in June it has been my pleasure and great relief to immerse myself in the work of an agency that believes "Healing is the Revolution" and is dedicated to improving the mental, physical and spiritual health and quality of life for women, their families and communities of color, particularly among marginalized populations. To expand our ability to have a positive impact we are using community-engaged research, programs, training and advocacy to implement a series of Women's Recovery Groups in community settings throughout the city for women with a history of substance use disorders and trauma. Our pilot Women's Recovery Group is underway to focus on the recovery process with each session involving education around relapse prevention and repair work to damaged relationships and damage to self. By using a trauma-informed and gender focused approach we will be able to address the specific challenges women in recovery struggle with, including, the effect of drugs and alcohol on women's health, overcoming obstacles to recovery, challenges of women caretakers, coping with stress, violence and abuse, issues of disclosure, and achieving balance to live a full life.
In all things I keep coming back to the idea that in love of community and connection, whether in the Pacific or in New Orleans, we will continue to see evidence that compassion and caring for others are fundamental ingredients to healing.

For more information about future IWES Women's Recovery Groups, please get in touch with Christina Illarmo, LMSW.

Contact TYSTEREO New Orleans Harm Reduction Network, nolaharmreduction@gmail.com, for information on local syringe access and training opportunities.

New Orleans Syringe Access Program - Every Friday 2-5pm at 507 Frenchman St. Services include safe sterile syringes, safe injection materials, and authorized syringe disposal. For more info contact Alison Gaye: (504) 945-4000 ext 211, Alison.Gaye@crescentcarehealth.org.

If you or someone you know is in a mental health, addiction or developmental/intellectual disability crisis, please call the Metropolitan Human Services District 24-Hour Crisis Help Line at (504) 826-2675.